10701-10704
Product About
Barb plug
10701:SS plug 1/4 barb
10702:SS plug 3/8 barb
10703:SS plug 1/2 barb
10706:SS plug 5/16 barb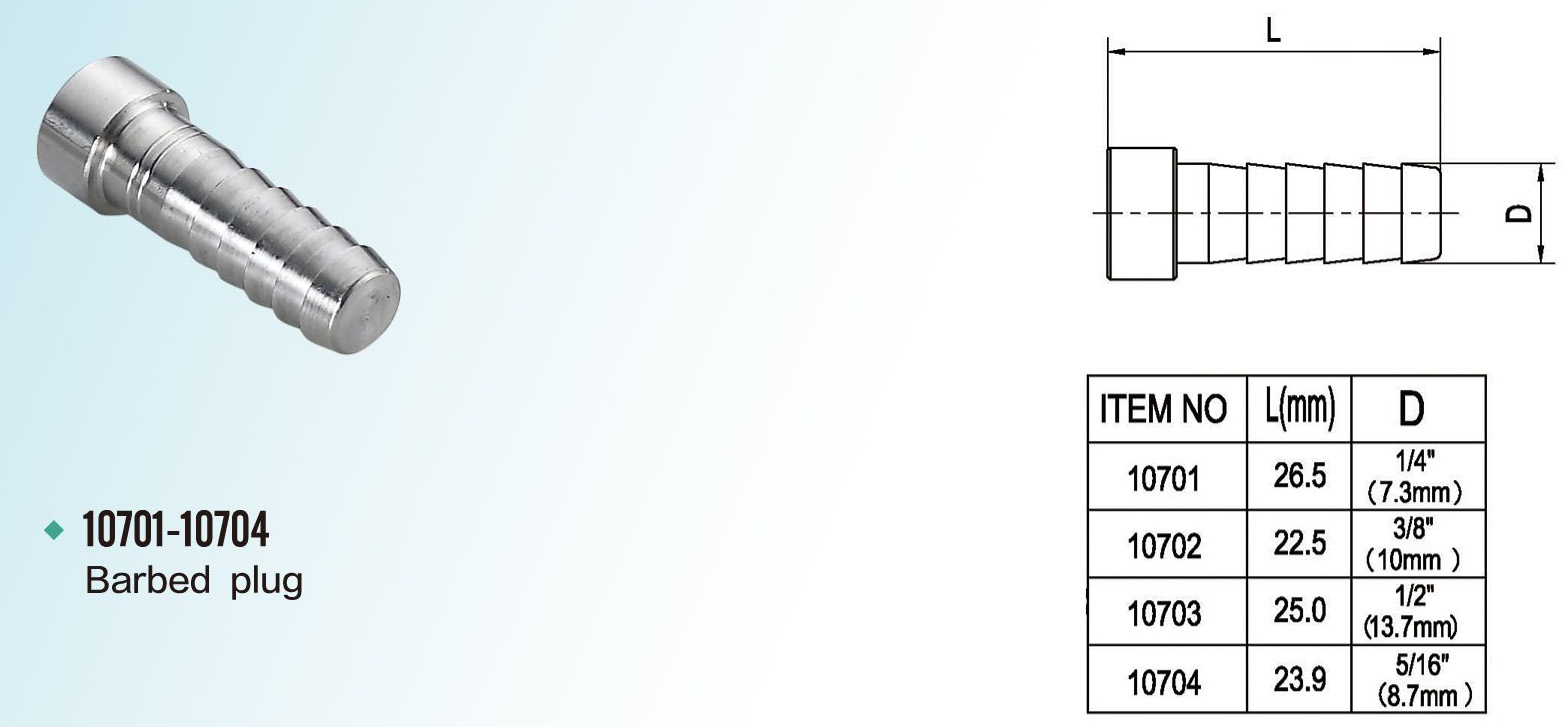 OVERVIEW:
1.Connected to plastic hose with stainless steel stepless clamp,
2.This stainless steel hose plug is made out of strong 304 stainless steel. It s outside diameter is 3/8" making it ideal for use with tubing that has an inner diameter of 3/8".
3.Plug barb fittings made of stainless steel are durable, health
4.The product passed the salt spray testing
5.Full auto inspection and package machine
6.Application:It is applied to the stainless steel pipeline system,which is used for milk,food,juice,beer,ect.
7.Type: elbows, tees, cross, bends, nipples, unions, splicer, flanges, plugs, round caps, etc.
8.Casting Service:
Casting is a manufacturing process in which a liquid material is usually poured into a mold, which contains a hollow cavity of the desired shape, and then allowed to solidify.
Forging Service:
Forging is a manufacturing process involving the shaping of metal using localized compressive forces. We offers open die forging, closed die forging and ring forging services. Material can be steel, iron and non-ferrous.
Stamping Service:
Stamping (also known as punching) is the process of placing flat sheet metal in either blank or coil form into a stamping press where a tool and die surface forms the metal into a net shape.
Hot Sales: Beveage fitting, Beer nut, Stainless steel check valve, Brass check valve,Quick disconnect and OEM, Gas manifold, Beer tap, Keg coupler, FOB detector, Beer tower, Beer shank