11601-11614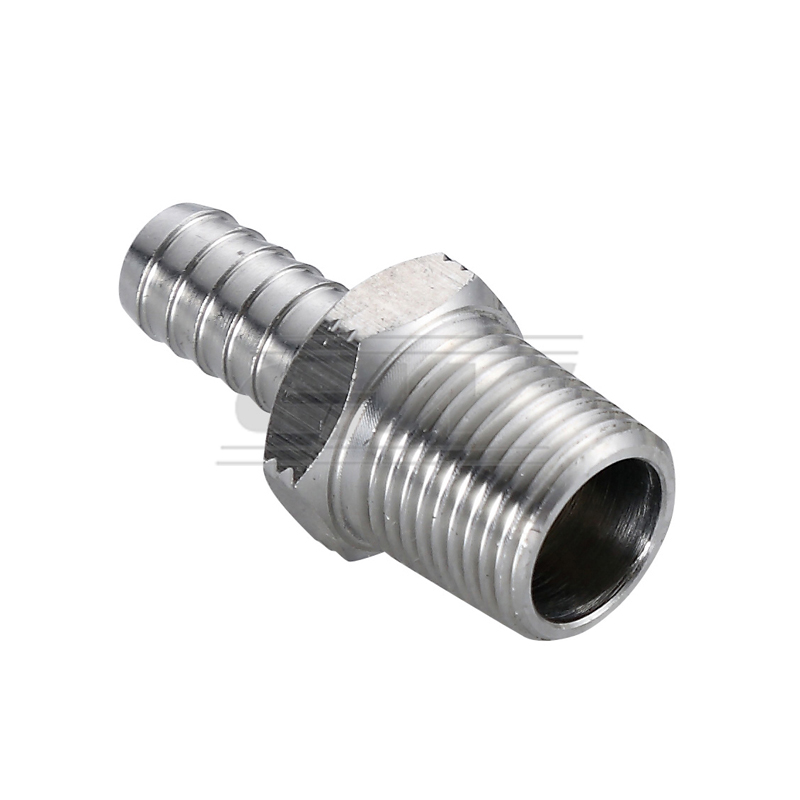 Product About
Barb splicer to NPT union
11601:1/8" NPT x 5/32" BARB ADAPTER 11609:SS Adapter 3/8 NPT × 1/2 Barb
11602:SS ADAPTER 3/8 BARB x 3/8 MPT 11610:FITTING 1/2 BSP x 10MM BARB S/S
11603:SS adapter 1/8 NPT × 3/8 barb 11611:1/2" NPT TO 1/2" BARB ADAPTER
11604:SS ADAPTER,1/4 BARB X 1/4 MPT 11612:3/4" NPT x 3/8" BARB ADAPTER
11605:SS Adapter 1/4 MPT × 3/8 Barb 11613:3/4" NPT x 1/2" BARB ADAPTER
11606:SS adapter 1/4 NPT × 1/2 barb 11614:SS adapter 3/4 NPT × 3/4 barb
11607:Fitting S/S 1/4 barb x 3/8 NPT 11615:SS ADAPTER 3/4 BARB x 3/4 MPT
11608:1/8" NPT TO 1/4" BARB ADAPTER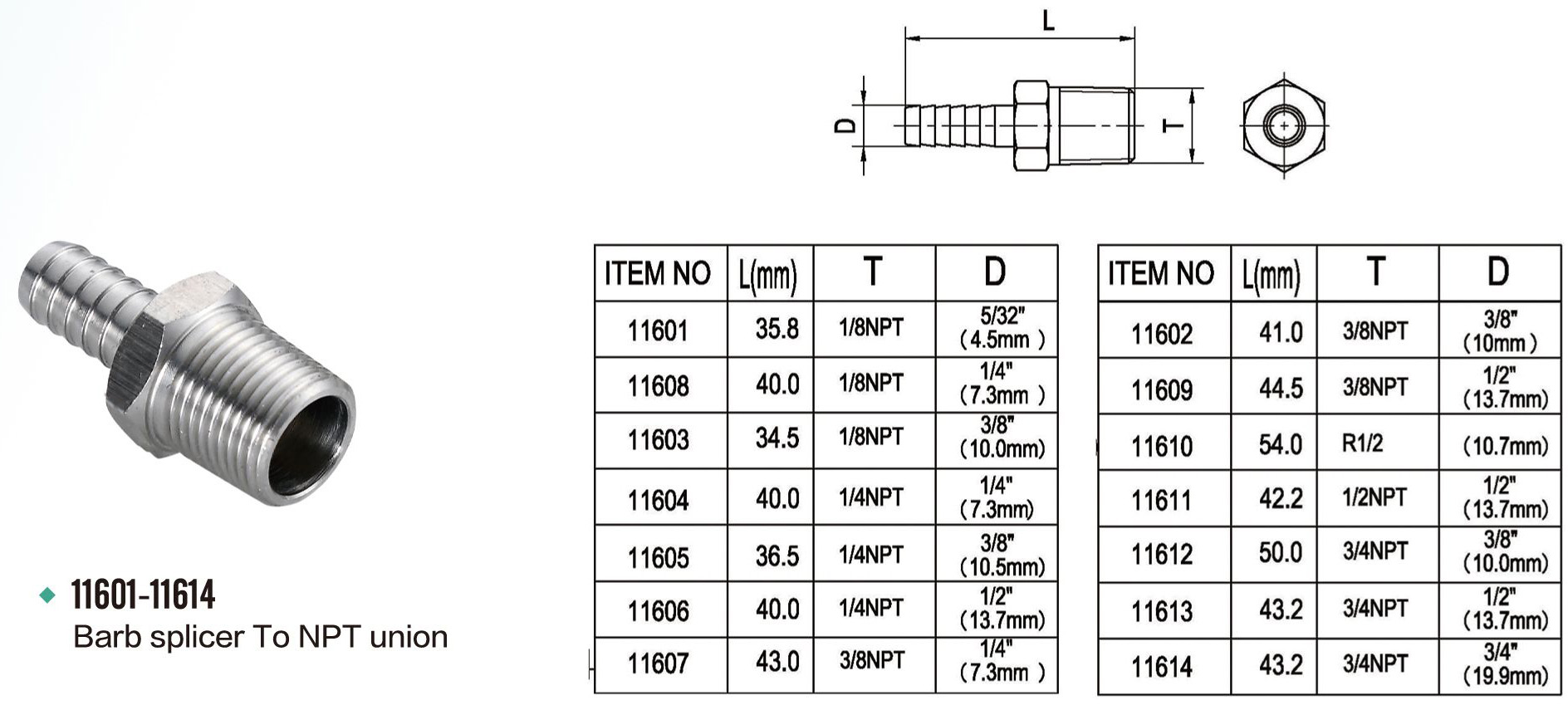 OVERVIEW:
1.Made of brass, stainless steel 304, 316 for corrosion resistance.
2.One end is male NPT thread that connect to female thread of component.
3.The other end is a barbed fitting, inserted in the hose, tubing with stepless clamp or adjustable clamp to tight it.Using one wrench, spanner to tighten fittings
4.Actually the barb can grasp the hose, but it will tighter with clamp.
5.It is especially suited for processes where the load on seals is extra high, where easy control and replacement of seals is necessary and where optimal cleaning is required.
6.The accuracy tolerance reach +/- 0.001mm by Tsugami precision turret machines.
7.All thread are 100% inspected by gauge.
8.Media:Oil, Gas, Water, Acid Liquid
Hot Sales: Beveage fitting, Beer nut, Stainless steel check valve, Brass check valve,Quick disconnect and OEM, Gas manifold, Beer tap, Keg coupler, FOB detector, Beer tower, Beer shank
In order to ensure the high quality, our factory has introduced a large number of precise and modern equipments from Japan, also owns many advanced inspection and measurement instructions.