GW3302L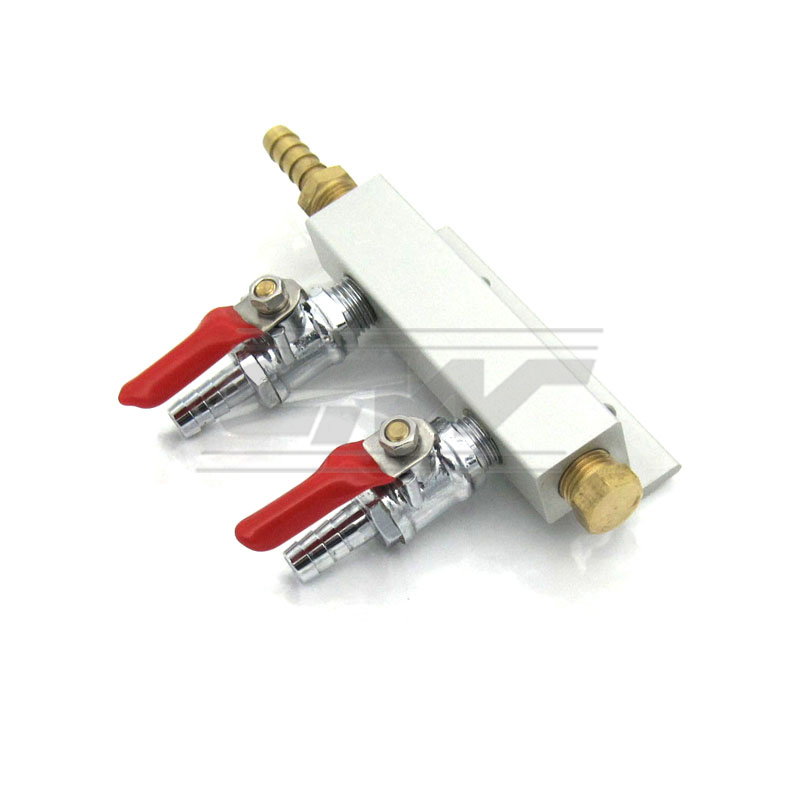 Product About
GAS MANIFOLD (2 ways to 10 ways)
Model: GW3302L
Type ; 2 Way Gas Manifold
Minifold Material: Aluminum
Mounting Bracket: Integrated
Nipple: brass
Plug: brass

Mini gas valve: Brass Chrome Plated or Nickel Plated
Inlet Connection: 3/8" O.D. (To fit 5/16" I.D. Gas Hose)
Outlet Connections: 3/8" O.D. (To fit 5/16" I.D. Gas Hose)
Manifolds are a great way to have one CO2 tank supply multiple kegs.
This manifold is made from aluminum, brass. It also works up to 100 psi and includes 1/4 barb, 5/16 barb, 3/8 barb and 1/4 MFL with built in check valves.
Other part can be added to the end of the manifold for an additional gas line according to customer s request.
Hot Sales: Beveage fitting, Beer nut, Stainless steel check valve, Brass check valve,Quick disconnect and OEM, Gas manifold, Beer tap, Keg coupler, FOB detector, Beer tower, Beer shank
In order to ensure the high quality, our factory has introduced a large number of precise and modern equipments from Japan, also owns many advanced inspection and measurement instructions.
Please kindly look though our equipment pictures. <-
If you want to know more about us, you can also enter our another website:https://cnzjgaowei.en.alibaba.com/ <-
If you are interested in our products, please feel free to contact us. <-